This past Saturday the South African Springboks traveled to Hamilton New Zealand to play in what would turn out to be the game to decide the Tri Nations Rugby T
ournament. The event was held in the Waikato Stadium, h
ome of the Chiefs and Waikato Rugby teams.
Throughout the weeks build up to the game there were several news reports spreading the news that the Springboks were not going to stay in Hamilton until the game as "there is nothing to do" Peter De' Villiers (Pompous Springbok Coach). However the All Blacks were more than happy to stay and train in the Waikato Stadium until the game, an open training session was held on the Monday of last week so that fans could watch and meet their favorite players in person.
I would be telling the truth if I said that this was the biggest
game in Waikato Stadium history. The All blacks had a l
ot to live up to, they would be hoping to follow in the footsteps of the Wallabies side that crucified the springboks 21- 6 in the previous week to keep their chances of a 5 time winning streak at the Tri Nations. Daniel Carter would also bring some inspiration to the te
am with his first home game in the Tri Nations this y
ear.
There was also various players playing out of their nor
mal positions including Stephen Donald (playing at 12) and Ma'a Nonu (at 13), the reasoning for this was the absence of Conrad Smith and Richard Kahui through injury.
All that aside the game was a great atmosphere with fireworks, fire and dance pieces from both of the respective countries. When the game finally kicked off t
he All Blacks took the early lead with the Springboks c
onceding a penalty instantaneously from the kick off, D
aniel Carter slotted it over with ease to put the All
Blacks in the lead. The South Africans replied soon after though with François Steyn smashing a monster penalty from
60
meters out! instantly following this he kicked another from about
57
meters and yet another from about

51

. Soon the Springboks w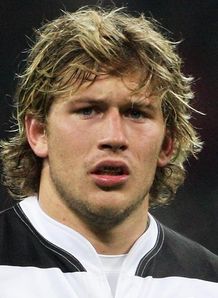 ere co
mfortably in the lead after Fourie Du Preez scored an excellent try in the 19th minute. From then it never looked pretty with Jean De' Villiers's intercepting a poorly judged pass from Daniel Carter to score in the 50th minute, everything was falling apart until Sitivini Sivivatu scored and then Richie McCaw did the same from a cross kick in the 78th minute. The All Blacks tried this tactic again in the last play but Daniel Carter overcooked it and sent it flying into touch ending the game and handing the South Africans the Tournament and the Tri Nations Trophy. Final score; 32-29 Springboks.